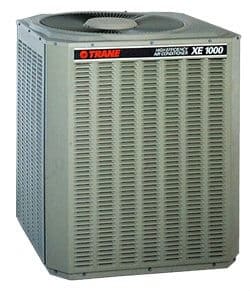 Over 75 percent of US homes have air conditioning and for the majority of them Trane is the manufacturer of choice, all because it is known for developing high-quality HVAC units that stand the test of time. As an award-winning company, all Trane products have to meet the tightest specifications and highest standards in the industry. Trane backs it up with our over 100 years of industry-leading innovation, engineering and manufacturing excellence. 
Benefits of Trane XE1000
Trane has developed the XE1000 from scratch, which makes it one of the most reliable, efficient, and economical HVAC options available on the market. Trane XE1000 comes fully charged from the factory for up to 15 feet of piping and can handle outdoor ambient temperature of up to 115 degrees Fahrenheit. Trane XE1000 is vastly known for its high efficiency ratings and affordable price point that have been proven by satisfied customers across the country. With this unit  you can expect to see noticeable energy savings when you replace an older, less efficient system. Also, the cabinet of the Trane XE1000 heat pump has full-side louvered panels with a baked-on powder paint that ensures resistance to corrosion and rust. 
Why Choose Us
NewAcShop offers a selection of Trane models and it is our job to ensure you have access to the highest-quality HVAC products (and other important unit parts like blower motors, heat exchangers, etc.) for your home or business at the most cost-effective prices. NewACShop has proven our ability to provide HVAC services that exceed the highest standards in the industry. Our team of experienced technicians knows Trane HVAC systems inside and out, and we supply and install the latest models. At NewACShop, we strive for excellence!  If you are unsure of your HVAC system choice, our team can help you decide on an option that suits your needs perfectly. Contact our team to get started today.