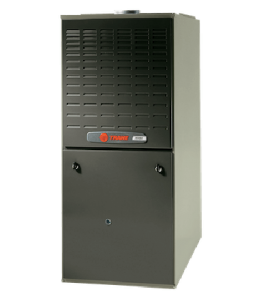 When you are looking for a brand-new gas furnace for your home or business, you want to make sure you get the best one. And when it comes to most durable and efficient natural gas furnaces, Trane is, out of the question, a number one option. Having more than 120 years of experience in manufacturing premier quality products, Trane is the world's leading innovative company specializing in air conditioning, ventilation, and heating systems for residential, commercial, and industrial buildings. 
Benefits of Trane XV80
Trane offers a vast variety of units to ensure that there's an option available for everyone. NewAcShop's personal recommendation usually falls to Gas Furnace Trane XV80, that we offer for installation for our clients. The XV80 forced air heating system is rated with up to 80% AFUE, which guarantees more efficient performance. Gas Furnace Trane XV80 has proved to be a highly durable system that lasts for years. This unit is built with high-quality component parts and is protected by a galvanized steel cabinet, which can withstand severe weather conditions and is resistant to corrosion. Moreover, the variable-speed fan motor of the Trane's XV80 gas furnace adjusts speed to provide a consistent flow of warm, comfortable air. The Trane XV80 ensures highly efficient air circulation and increased dehumidification with Comfort-R solution.
Why Choose Us
NewAcShop is proud to carry a number of Trane models and it is our job to ensure you have access to the highest-quality HVAC products (and most important unit parts like blower motors, heat exchangers, etc.) for your home or business. We have many years of experience in the industry, supplying Trane systems for the most affordable price as well as expertly installing them to ensure our customers get the comfort they deserve. If you are hesitant about which model of furnace will work best for you, our NewAcShop team will be happy to help you decide on the most suitable option. Contact our team to get started today.